Amazon has become increasingly popular in recent years and is currently the largest online marketplace for products of all kinds. In the meantime, it has even become a search engine and according to the latest statistics, over 2/3 of product searches on the Internet already take place via Amazon. Amazon is thus the #1 in e-commerce and accordingly some softwares have been developed for it.

One of the best known and supposedly the best is Helium 10. The provider from the USA offers an Amazon analysis / marketing software. It allows collecting crucial data which is important for Amazon sellers. But how good is the software really? We have tested Helium 10 in terms of features and provide an independent and objective review.
Functions / Features
One of the main reasons why Helium 10 is so popular and probably currently the best provider on the market are the many functions and features that the software offers. It's a Swiss Army Knife or better put All1One when it comes to Amazon. From the initial analysis to the ongoing optimization of any process, Helium 10 offers everything a professional Amazon marketer / seller needs.
Black Box
Under the name Blackbox runs the Keyword Research Tool on Helium 10. It is more or less the core function of the software and allows deep keyword research. This is the most important tool for most Amazon sellers and the first step before you start selling products. You have the possibility to access a database with over 450 million products and activate dozens of filters during the search.
X-Ray Browser Extention
If you want to have a quick first impression of the market, the X-Ray Browser Extention is definitely worthwhile. With just one click on the icon in the Chrome browser, you can view the data from the open Amazon window and get a quick overview of the market. Very handy for initial research.
Scribbles – Listing Optimizer
Scribbles is a handy tool that displays keyword density and placement on your own product listings. It's like a scanner and checks if each listing really contains all the keywords you want to rank for. Is very suitable for checking and as a second check.
Cerebro – Reverse ASIN Search
Cerebro is the detective of Helium 10 and provides deep insight regarding the data of certain ASINs. This makes it possible to look through products from other manufacturers and learn certain things. For example, you can see which keywords another product is ranking for and which of them convert best. Then you can implement them yourself and try to rank on them. Or you can identify certain keyword gaps that you can fill yourself.
Extremely useful feature!
Refund Genie – Inventory Reimbursement Finder
Amazon is not perfect and loses or damages certain products during shipping. However, this often goes undetected or is reported too late. Refund Genie automatically checks the delivery and reports as soon as certain errors occur. This way, you won't miss a single refund and you'll save money.
Inventory Protector – Guard Against Scammers
There are also dishonest competitors on Amazon who want to harm other sellers through fraudulent activities. One tactic of this is to order new products in high quantities so that they sell out quickly. In the end, however, the orders are never paid. However, the high number of fake orders puts the actual listing on SOLD OUT. Inventory Protector protects against such scam attacks.
More tools
There are a lot of other tools and features that you get with Helium with every paid license. These include ALERTS, which detect and warn about hijackers and frauds. There is also an internal email marketing tool which is incredibly useful. Anyone who does e-commerce knows how important email marketing is (even on Amazon). In addition, there are also intelligent tracking features which suggest new keywords and suggest optimizations for old ones. And much more…
Thus, Helium is indeed the Swiss Army Knife among Amazon tools and currently outshines all other providers.
Accuracy
One of the most important points when it comes to data science and data analysis is, of course, the accuracy or correctness of the corresponding data. Currently there are many softwares on the market which only estimate or approximately extrapolate certain data. This leads to inaccurate results and ultimately poor results. In the worst case, this can even cost a lot of money.
So far, Helium 10 results have been extremely reliable and accurate. The data we have received so far has all been very accurate across all marketplaces, including Germany. Accordingly, Helium 10 is a very good choice in terms of accuracy compared to other providers among the top tools.
Costs / Prices
The cost of helium is comparatively higher than that of the competition. This is because Helium 10 offers more features and also packs them all into the respective plans. Although there are cheaper providers, you usually have to buy tools / apps to achieve the same functionality with Helium 10. In the end, the costs are usually not even higher.
Currently Helium 10 offers four standard plans. The cheapest one is free of charge and is used to test almost the full functionality free of charge for a limited period of time. So there is no risk if you are not 100% sure if Helium 10 is the right choice. Because you can start without any costs.
However, the Platinum plan then starts at $97 a month and is probably the best choice for most sellers / marketers. You get the most important functions and that at a reasonable price.
The prices refer to monthly payment. However, if you pay annually you only have to pay for 10 months and thus save -16.66%.
Below is another brief tabular overview of the plans and their functionality. As described above, the Platinum Plan will be absolutely sufficient for most users. This is perfectly sufficient and already provides the full functionality.
However, those who already sell professionally with high volume can also upgrade to DIAMOND or ELITE PLAN. There you get the same functionality but with higher volume in terms of searches, email you can send etc.. Thus, primarily suitable for professional full-time Amazon seller / marketer / agency who want to use the software more.
Operation
Helium 10 has in recent months not only done work in the field of functionality of the software but also greatly improved its operation. The dashboard is definitely successful and convinces with clarity. As a newcomer, you will quickly find your way around, as the operation is extremely simple and intuitive.
The browser extention is also extremely clear, easy to use and convincing in every respect.
Support
Since Helium 10 is an American software, you have to expect English-speaking support. For some this is a problem and for others it is absolutely irrelevant. However, if you speak English you will get along very well with support. So far, he has always shown himself to be solution-oriented and friendly. In addition, you usually get an answer within 24 hours. Also at the weekend. Support is important, because in the course of use there can always be questions. Helium 10 basically offers a stable and good customer support.
In addition, there is also a huge knowledge base with FAQs and a blog which can be used to answer or solve frequently asked questions and problems. These are also continuously expanded and updated. Meanwhile, many companies already have this, but it is still a plus.
Experience
In our experience, Helium 10 is an ingenious tool that can be both essential and incredibly practical. The many functions facilitate numerous processes on Amazon and, above all, save time. We have also always received reliable data with high accuracy.
Since we sell products on Amazon ourselves and are constantly looking for trends and gaps in the market and have to evaluate market data, we are happy to be able to fall back on Helium 10. It is a reliable software which convinces with high functionality, easy handling, good support and fair pricing.
Operation
Helium 10 has in recent months not only done work in the field of functionality of the software but also greatly improved its operation. The dashboard is definitely successful and convinces with clarity. As a newcomer, you will quickly find your way around, as the operation is extremely simple and intuitive.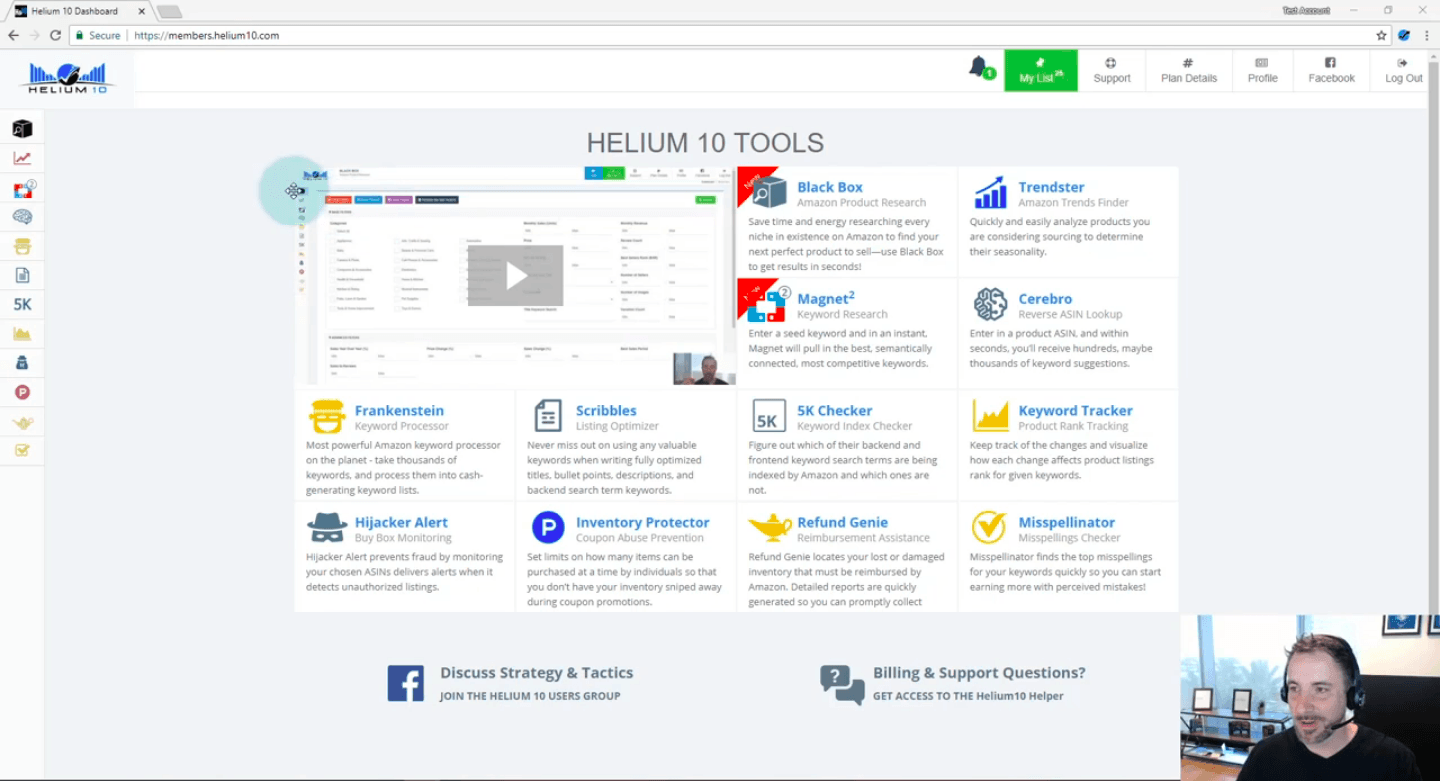 PGRpdiBjbGFzcz0iX2JybGJzLWZsdWlkLXdpZHRoLXZpZGVvLXdyYXBwZXIiPjxpZnJhbWUgdGl0bGU9IkhlbGl1bSAxMCBpbSBUZXN0OiBEYXMgYmVzdGUgQW1hem9uIE1hcmtldGluZyBUb29sPyIgd2lkdGg9IjgwMCIgaGVpZ2h0PSI0NTAiIHNyYz0iaHR0cHM6Ly93d3cueW91dHViZS1ub2Nvb2tpZS5jb20vZW1iZWQvSF92ZXBIWF8tdVk/ZmVhdHVyZT1vZW1iZWQmcmVsPTAmZW5hYmxlanNhcGk9MSZvcmlnaW49aHR0cHMlMjUzQSUyNTJGJTI1MkZ6ZWl0Z2Vpc3QuY28lMjUyRndlYmFwcCUyNTJGd3AmY29udHJvbHM9MSIgZnJhbWVib3JkZXI9IjAiIGFsbG93PSJhY2NlbGVyb21ldGVyOyBhdXRvcGxheTsgY2xpcGJvYXJkLXdyaXRlOyBlbmNyeXB0ZWQtbWVkaWE7IGd5cm9zY29wZTsgcGljdHVyZS1pbi1waWN0dXJlOyB3ZWItc2hhcmUiIGFsbG93ZnVsbHNjcmVlbj48L2lmcmFtZT48L2Rpdj4=
Alternatives
There are currently a handful of alternatives to Helium 10 on the market. Basically, they all promise the same, but in practice there are big differences, especially in terms of functionality. Also, in terms of price, they subsequent tools differ somewhat. Ultimately, everyone has to decide for themselves what demands they have and what budget is available. Here are some more tools which we can recommend with some restrictions.
#1 – JungleScout
JungleScout is another very well-known provider on the market. Unlike Helium 10, the primary software is available at $49 / month. Compared to Helium 10, JungleScout offers all the important features and for half the price. In the last few months, JungleScout has done such an enormous amount of development work that you have to pay much more for equivalent solutions. For Amazon sellers or all those who actively operate Amazon FBA, the price-performance ratio at Jungle Scout is definitely the best.
.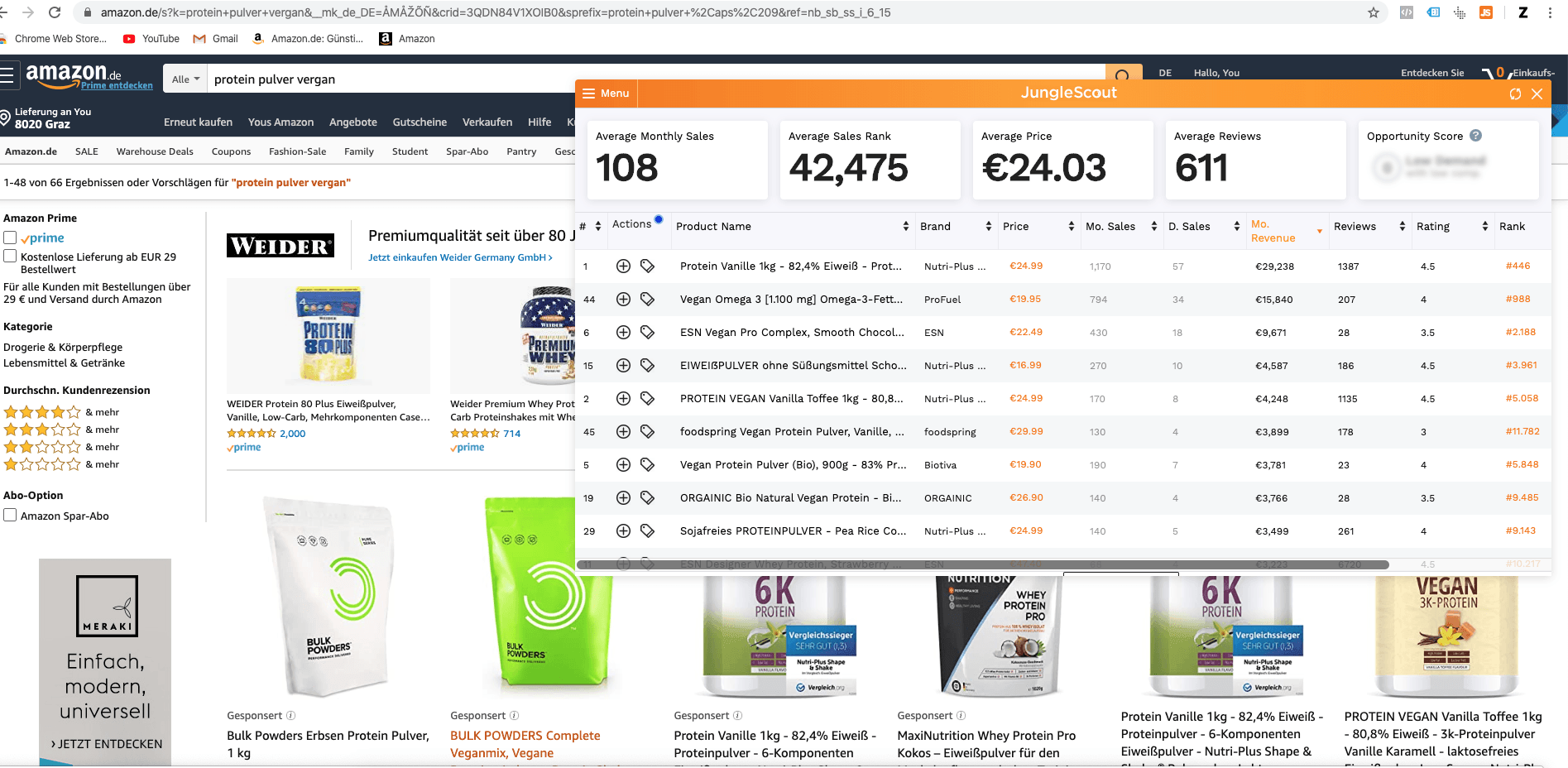 Viral Launch
Besides JungeScout and Helium, Viral Launch is one of the largest providers on the market when it comes to Amazon Softwares. In terms of price, this is on the same level as the other two providers. The advantage of this is that, as the name suggests, tools for successful launching are also provided.
AMZ Scout
AMZ Scout is a small tool which nevertheless provides the basic functions you need at the beginning. It is comparatively the cheapest provider Moreover, you have the option that you can also buy the browser extention and thus have permanent access to the full license.
ZonWords
Kevin David is one of the most popular YouTubers in the Amazon FBA space. Meanwhile, the online marketer has released its own software called ZonWords. It is among the cheapest providers and offers at least the most basic features / functions for product research. Price-wise, you can get started around $9.95, $49.95 or $99.95.
Summary
The bottom line is that JungleScout is currently the most functional tool for Amazon sellers / marketers on the market. This is because the functions go far beyond product research and deliver numerous benefits for the user. This is also the reason why Helium 10, Viral Launch & Co. are currently under strong pressure, because JungleScout clearly outshines them.
If you have professional demands you will invest $49 a month very happily. We even go so far as to say that you definitely recoup the value through the numerous functions and even save money in the long run compared to other tools.