There are now dozens of Instagram bots. But not all of them deliver what they promise. Instagress is already down. Instazood does not always work or provide constant activity. Moreover, the user interface is not really pretty. Combin doesn't offer all the features you need and is definitely too expensive for the performance. Jarvee offers a lot but runs only on Windows and that too does not pass. Setting up a virtual server is too complicated for many.
But there is an alternative which we have been testing for months and with the highest satisfaction – .
Inflact
. In this article we explain one of the best alternatives to Instagress, Instazood, Combin, Jarvee & Co. and give practical tips to effectively build reach.
Functions at a glance
Inflact is currently one of the best solutions to most Instagram bots currently on the market for a variety of reasons. Here are the main features and benefits of Inflact at a glance. Depending on the plan, the functionality of the Instagram bot increases. Currently, the software can be used on all devices with any operating system via the browser.
Like, Comment & Follow / Unfollow
The most important and basic feature is automating engagement. Specifically, this refers to Likes, Comment and Follow / Unfollow. However, it is important to be able to control and spread the activity very precisely. Most bots do not allow activity to be radomized and timed. However, this is important, otherwise Instagram will recognize the bot. The uneven scattering of activity simulates human behavior. In addition, you can activate the day / night rhythm.
In addition, with Inflact you can set how many likes the person should get when the bot becomes active. This makes sense, because it gives the impression that you really looked at the profile and liked several photos.
The setting options for these activities are particularly large and you can precisely define the target group, activity and other parameters.
However, one should avoid too high frequency and spammy comments as this can quickly lead to a ban. Especially in the beginning better to start slowly.
Story View
In addition, you can also view the stories or automate the story views. Especially for smaller accounts this makes sense, because they look at the viewers of their story. Thus, again, the credibility of the automated activity increases. This makes sense especially if you combine it with other activity as well as Likes and Comments.
Direct Message
Inflact can of course also send direct messages. These can be connected to different triggers. For example, every time someone follows or interacts. Of course, you can also target followers of certain people, etc. Direct messages make sense in that they, in turn, signal Instagram engagement and activity and thus increase the relevance of the account.
However, you should avoid spammy or generic messages here as well. This is not well received and can also lead to reports or bans. Finally, it should look as organic as possible again.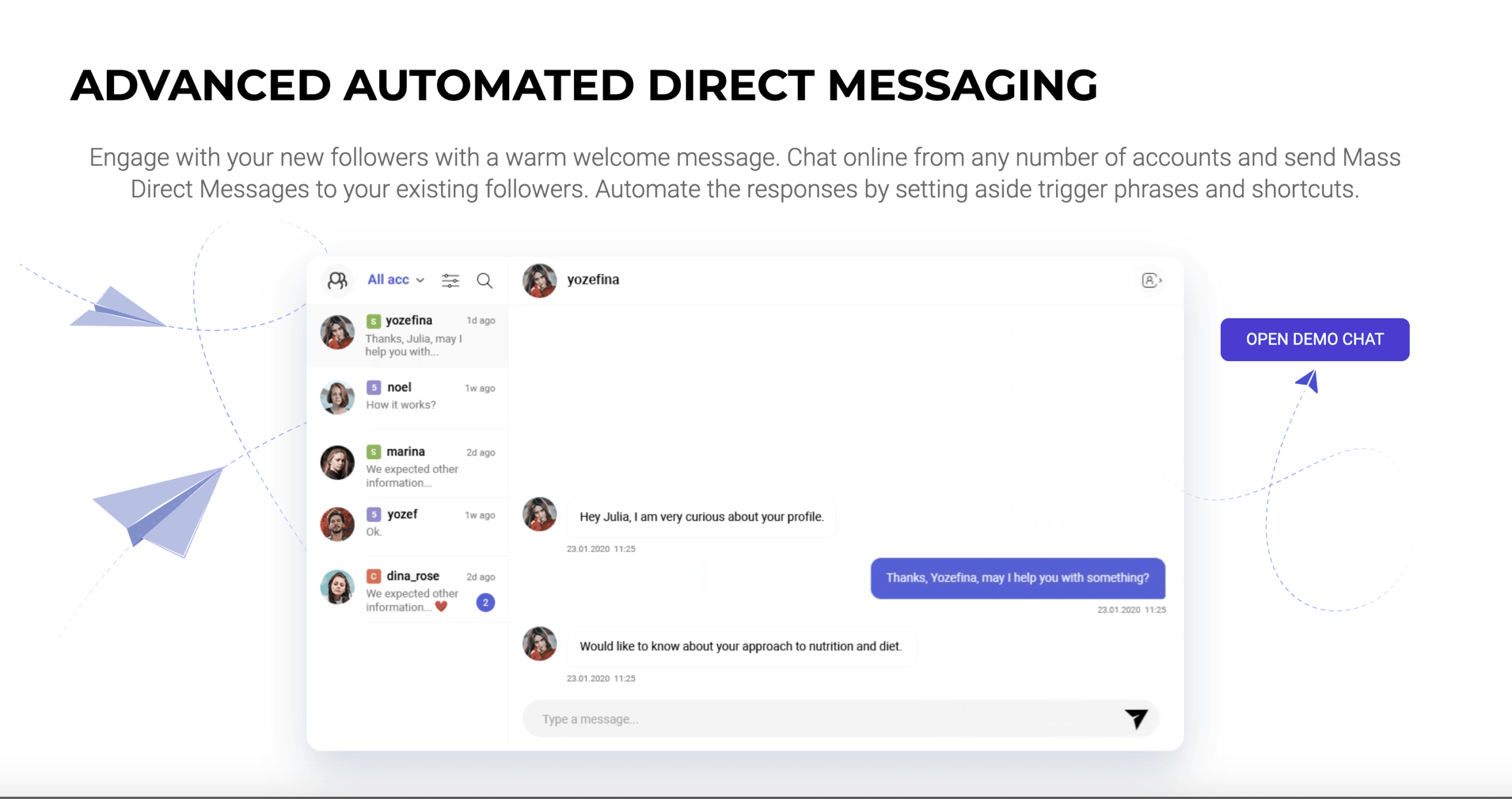 Post / Feed Schedule
A brilliant feature of Inflact is scheduling posts and the feed. Thus, it is possible to arrange all posts and have them posted at certain times. This simplifies the whole process enormously and you save a lot of time. Especially if you want to run Instagram on a professional level and actively build the account.
Until now, you always needed extra apps for this or you were only reminded on the post. With Instagram, it's fully automatic.
Hashtag generator
Inflact also offers a hashtag generator with which you can generate trending hashtags on certain topics. This is a practical extension which only a few tools offer. Hashtags are especially important on Instagram because they can help you find your posts.
Alternatives
Here's an overview of the most popular Instagram automation tools currently on the market. They enjoy great popularity but have the most disadvantages compared to Inflact . The only exception to this is Autogramer. It's even better than Inflact when it comes to Instagram automation, in our opinion.
Autogramer – #1 Instagram Bot
Another solid tool when it comes to Instagram marketing and automation is definitely Autogramer. The software offers the most diverse functions around the automation of Instagram. It is thus a good solution for all those who do Instagram marketing. The price is comparatively even cheaper than Inflact.
Ghost Follower App
Another great tool is the Ghost Follower app. Because this allows the automatic removal of
Ghost Follower
. This is important in that they keep engagement rates low due to inactivity. However, the engagement rate is sometimes the most important quality and corresponding growth trigger for the algorithm.
Thus, you should remove inactive followers (ghost followers) on every follower. This can be done with the app in just a few clicks.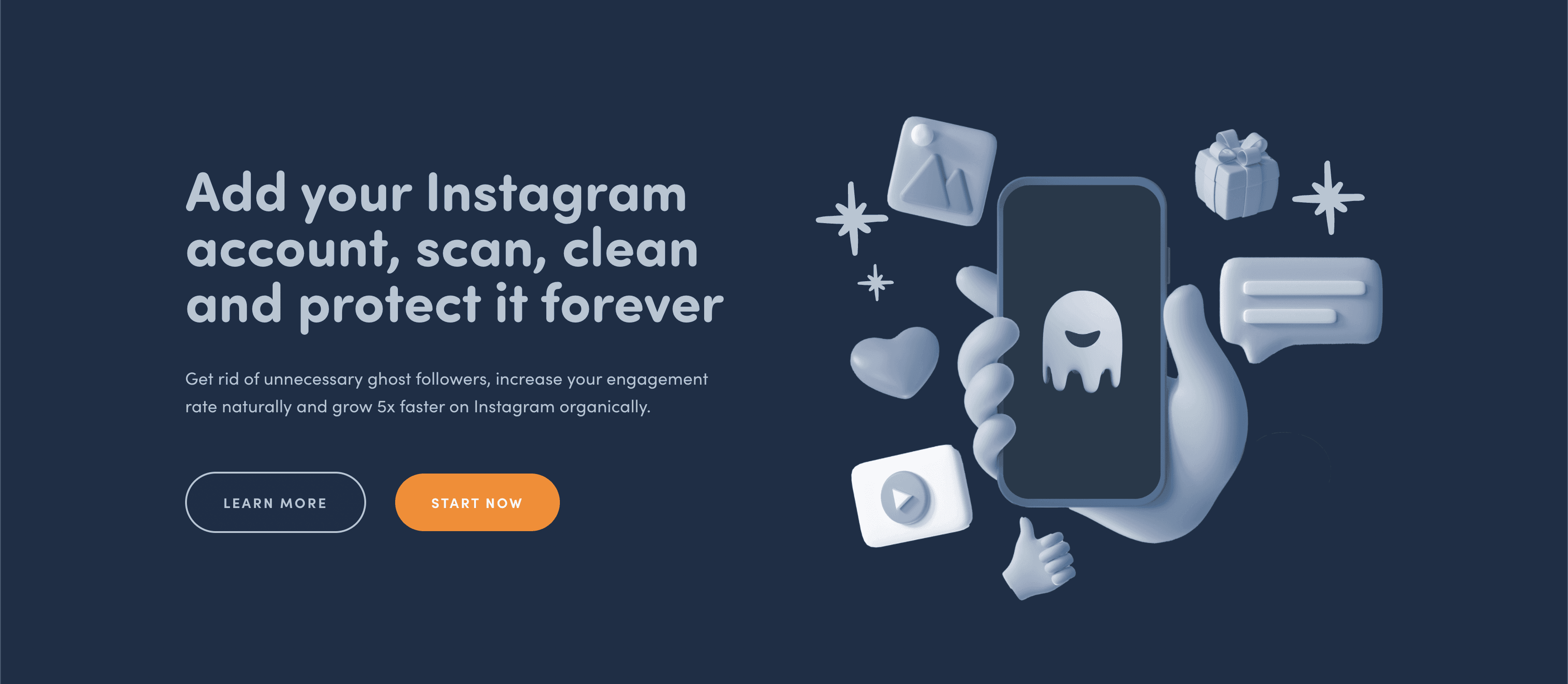 Jarvee
Jarvee is objectively a good tool to automate many social media channels. From Facebook to Pinterest to Instagram, the tool allows you to manage and automate a number of channels. The Jarvee is also at the top in terms of settings and tools. You can set everything down to the last detail. This is what Jarvee does professionally.
The big disadvantage of Jarvee is that you can only run the bot when you are logged in. Thus, there is no 24/7 automation. In addition, the bot currently only works with software for the Windows operating system. However, we managed to run the bot continuously via a virtual server regardless of the operating system. However, this is very complicated for beginners and requires expert know-how in the implementation.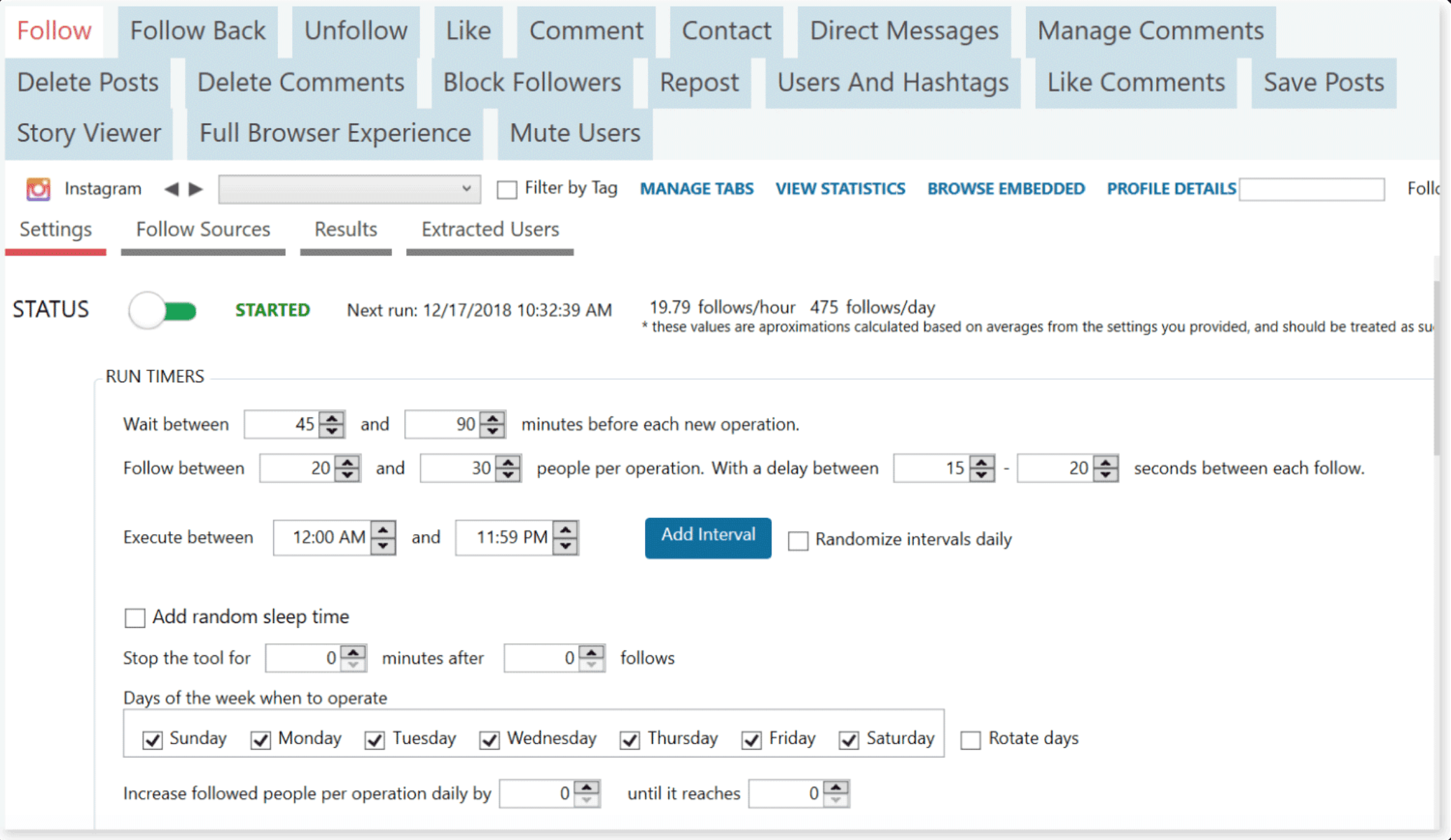 Instazood
Instazood was considered to be one of the best successors of Instagress. Basically, the software offers all the functions you need, but not all of Inflact. However, for 99% of users Instazood is probably the best solution, as it is unbeatable in terms of price-performance ratio. You have the most important functions and pay only a fraction of other bots.
PGlmcmFtZSB0aXRsZT0iSW5ncmFtZXIgKEluZmxhY3QpIC0gZGVyIGJlc3RlIEJvdCB6dXIgSW5zdGFncmFtIEF1dG9tYXRpc2llcnVuZz8iIHdpZHRoPSI4MDAiIGhlaWdodD0iNDUwIiBzcmM9Imh0dHBzOi8vd3d3LnlvdXR1YmUtbm9jb29raWUuY29tL2VtYmVkL3Z0NFpFSkxVSjlNP2ZlYXR1cmU9b2VtYmVkJnJlbD0wJmVuYWJsZWpzYXBpPTEmb3JpZ2luPWh0dHBzJTI1M0ElMjUyRiUyNTJGemVpdGdlaXN0LmNvJTI1MkYxd3AlMjUyRmFwcCZjb250cm9scz0xIiBmcmFtZWJvcmRlcj0iMCIgYWxsb3c9ImFjY2VsZXJvbWV0ZXI7IGF1dG9wbGF5OyBjbGlwYm9hcmQtd3JpdGU7IGVuY3J5cHRlZC1tZWRpYTsgZ3lyb3Njb3BlOyBwaWN0dXJlLWluLXBpY3R1cmUiIGFsbG93ZnVsbHNjcmVlbj48L2lmcmFtZT4=
Instagress
The main disadvantage of Instagress is obvious. The software is no longer available. Until two years ago, it was the most popular software in terms of Instagram automation. But since then 99% of the accounts have been deactivated and you can't register anymore. It was one of the first tools and by far the most popular, even if it wasn't special compared to today's standards.
Combin
Combin is a solid and simple tool that is easy to use. However, it offers only the most necessary functions and is not really recommendable compared to other tools. The main disadvantage is simply the low functionality or lack of functions that Inflact offers. Thus, a solid bot, but just compared to competition, Combin is not recommended.
Gramista
Gramista has been on the market for a while but is still the most expensive alternative to the other Instagram bots, offering no advantages. On the contrary, other automation tools such as Inflact, Jarvee, Instazood & Co have much more possibilities and functions. Therefore, we can not really recommend.
Summary
Even though there are currently a lot of Instagram bots, Inflact is one of the best solutions on the market. Only
Autographs
can keep up and is currently the newest and best alternative to Instagress, Instazood, Jarvee, Combin & Co. The bot convinces with functionality and ease of use. The price is in the middle, but you can test the bot for free anyway. Thus, one does not take any risk.