The Instagram feed is the first impression other Instagram users have of you. Therefore, it is even more important that not only the individual photos are aesthetic but also the entire grid. It is not for nothing that there are now numerous apps that help to plan and build or design the feed.

Here are the best tips & tricks and design ideas from successful influencers to build an aesthetic feed on Instagram that leaves a lasting first impression. Because behind most Insta Feeds is more work and know-how than you might think.
Instagram Feed Design + Design Ideas
We have managed a few influencers ourselves as well as built up our own accounts. This has resulted in 5 essential aspects that lead to long-term success with Instagram as well as building a professional Instagram feed. You should definitely keep these in mind if you want to get started with Instagram.
Corporate Design / Color Code
The first point is to establish a small corporate design. This means the creation of a certain theme for companies, brands but also personal brands. This theme helps with branding and is composed of several elements. These include, but are not limited to:
Colors (with color codes!)
Fonts
Elements / Style
Mood & Emotions
This helps companies and brands to present themselves to the outside world in a certain style which has a certain recognition value. This is exactly the principle you can take from the biggest companies in the world and apply to yourself and your Instagram feed. In doing so, you should ask yourself the following questions:
Which 3 colors represent me?
What emotions do I want to evoke?
What values do I want to communicate?
How do I want others to perceive me?
This should result in a personal style direction on which the entire corporate design and also the Instagram feed is built. This is the first step towards personal branding. Here is an example:
One lives very consciously, minimalist, sustainable and vegan. Accordingly, the feed should also communicate these values. Here's an example from Anna Laura Kummer (@annalaurakummer). The colors are mainly brown, white and black. The style of the photos very minimalist and tidy. You can tell by certain photos that sustainability also plays a role. The corporate design is thus very suitable and strengthens the personal brand
Another example would be Jay Alvarez. An extroverted travel and adrenaline junkie who lives and loves life at the limit. Accordingly, colorful, contrasting and diverse is the style and how selection of photos. Once again, a clear message is communicated via the feed. Jay reflects his personality in the feed.
The feed is much more than an arrangement of photos. It is part of the corporate design and personal brand. The feed communicates certain values, conveys emotions and delivers a message. For this, you should consciously choose style, colors and certain shots which emphasize exactly that. There are numerous other examples on Instagram which can be found on almost every major influencer.
High quality photos
This point should be self-evident by now, but there are still Instagrammers who try to become successful with average quality photos. But the standards have grown steadily in recent years, so that all major accounts use professional photo equipment for the shots. The quality demands are sometimes so high that many resort to full-frame cameras, drones and other more expensive equipment to get the most out of their Instagram photos.
But the best equipment is useless if you have no idea about photography. Therefore, in addition to the camera, it is also important to know how to operate it. A basic photography course is definitely worthwhile to learn how to take good pictures. Instagram has long since ceased to be a platform for sharing spontaneous snapshots taken with a cell phone camera.
Create presets
To simplify the editing of the photos and to comply with the color code of the corporate design, you should build appropriate presets. These are used to keep certain editing settings like saturation, contrast, brightness, tone correction, white balance and color filters constant to create a consistent look. Almost all successful Instagrammers work with such presets. Mostly these are created for Lightroom or VSCO.
Especially popular presets from well-known Instagrammers and Instagram photographers are even sold for good money. That's how much interest there is in. the default settings.
One of the most popular styles for which many have built a preset is "Orange & Teal". This look increases the saturation of the orange and turquoise tones and creates a typically cinematic look. This is particularly popular because the color contrast is especially pleasing to the eye. Jon Ollson (@jonollson1) now has over 1 million followers and has been using this look successfully for years.
Presets finally provide the uniform look and let the images harmonize very well with each other in the entire grid.
Custom Video Thumbnails
Those who rely on videos should definitely use Custom Thumbnail. These can be inserted very easily with a little trick. Basically, Instagram only lets you set a small moment of the video as a thumbnail. However, you can easily take advantage of this by simply adding a thumbnail at the beginning of the video with a length of 0.1 seconds. Thus, it is hardly comprehensible for the user, but Instagram can be tricked with it.
Thumbnails, on the one hand, can make videos fit nicely into the feed and not disrupt the harmony. On the other hand, you can make them stand out and thus ensure more clicks and views. No matter how you use thumbnails they should be created consciously. For creating or inserting the image into the video there are applications like Kapwing.
PGlmcmFtZSB0aXRsZT0iRGVyIFBFUkZFS1RFIEluc3RhZ3JhbSBGZWVkISIgd2lkdGg9IjgwMCIgaGVpZ2h0PSI0NTAiIHNyYz0iaHR0cHM6Ly93d3cueW91dHViZS1ub2Nvb2tpZS5jb20vZW1iZWQvMHB5dE9xZ0VralU/ZmVhdHVyZT1vZW1iZWQiIGZyYW1lYm9yZGVyPSIwIiBhbGxvdz0iYWNjZWxlcm9tZXRlcjsgYXV0b3BsYXk7IGNsaXBib2FyZC13cml0ZTsgZW5jcnlwdGVkLW1lZGlhOyBneXJvc2NvcGU7IHBpY3R1cmUtaW4tcGljdHVyZTsgd2ViLXNoYXJlIiBhbGxvd2Z1bGxzY3JlZW4+PC9pZnJhbWU+
Plan
After you have found a style and done a little branding, you need to get the maximum out of the prepared photos. Accordingly, you should not take photos when they arise but always leave some buffer. Ideally, you always have several photos in stock which you could post. But you only choose the one that fits best to the already posted ones. Thus, by placing the photos correctly, you get even more out of the feed.
For this, of course, you should plan the photos and also "schedule" the posting. Of course, you can't do that via Instagram and you need another application for that. More about this in a moment
Moreover, scheduling Instagram posts and the feed has even more advantages. For example, certain analytics can be used to determine when users are most active or when the most users are online. This allows you to schedule posts at those exact times. Thus, the engagement and also the reach is the highest.
EXTRA TIP: Autogramer is currently the best software for scheduling Instagram posts. In addition, it can be used to automate many other areas of Instagram and provide other practical features for Instagram.
Apps & Software
To make it easier to create and build a professional Instagram feed, there are already a few apps available. Here are the best and most popular apps to help you improve your photos and your feed.
Autographs
If you want to perfect your Instagram feed, you should definitely plan it and time your posts. There are some apps that already make this possible. Not yet on Instagram itself, so you have no choice but to use certain apps or browser-based applications.
We clearly recommend the #1
Instagram Marketing Tool
Autogramer. It's an incredibly versatile tool that offers a wide variety of features for building and marketing an Instagram account. Starting from
post scheduling
to automated messages, Ingramer can do almost everything.
Snapseed
An absolute classic among photo editing apps is Snapseed. Google's apps is incredibly handy and offers a variety of features and tool to allow editing photos in a variety of ways. Snapseed is very good for the most important basic settings and customizing. This includes brightness, contrast, saturation, sharpness and much more.
The main advantage of Snapseed is that it is easy and fast to use. This is particularly intuitive and you can find your way around very well after just a few clicks. You can easily make the most important settings. This also allows editing selective areas of the photo.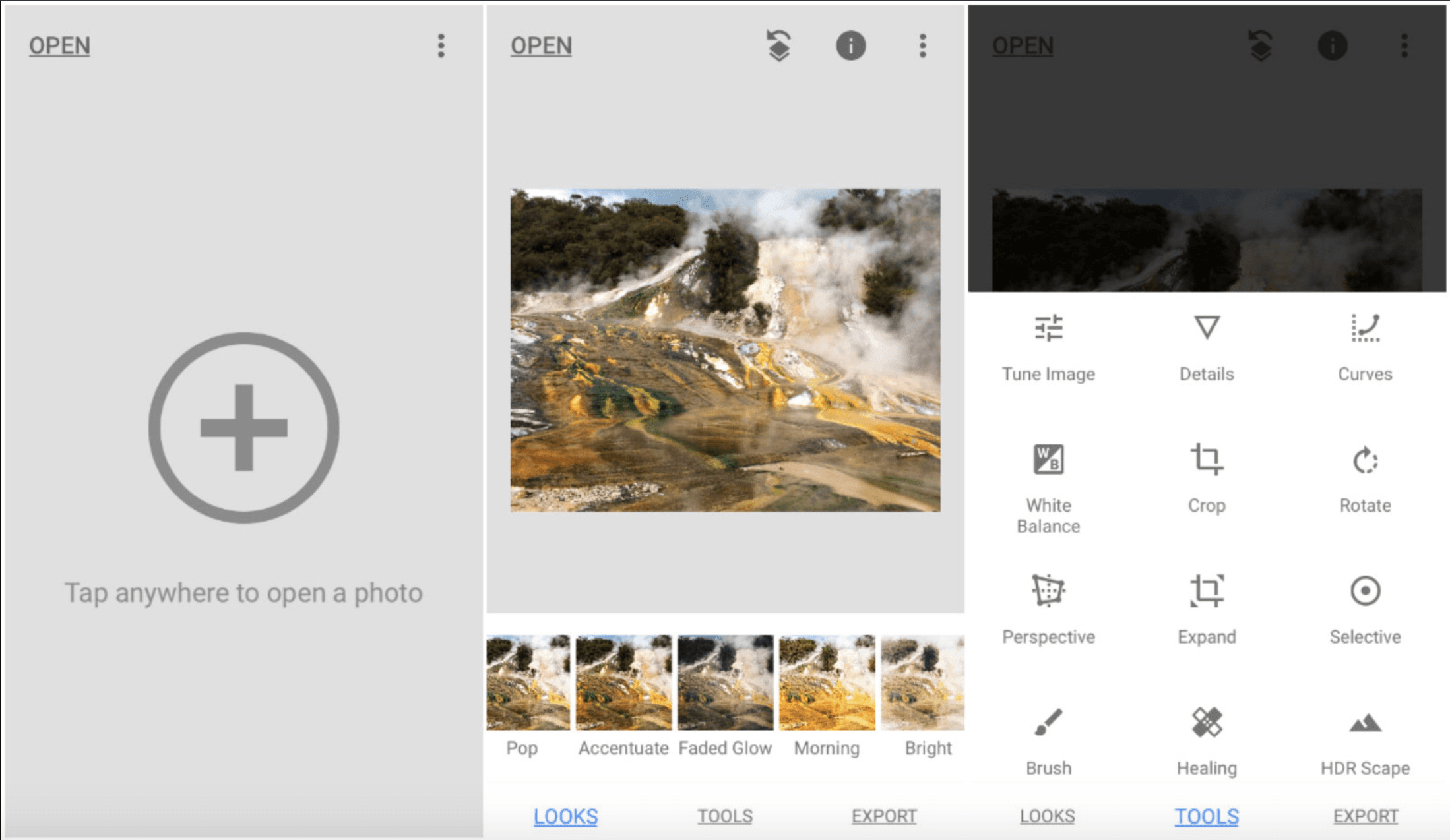 VSCO
If you like filters and also try to get a uniform look as described above, you should definitely try VSCO. This app is one of the most popular filter apps for Instagra. In the meantime, there are dozens of filters that can be expanded with filter packs that can be purchased. It is probably the first choice for creating filter presets next to Lightroom (Mobile).
Of course, with VSCO you can also make normal settings in addition to the filter. Following are a few popular examples. The filter names are usually a letter followed by a number. The letter stands for the series and the number for the version of the series. For inspiration, just type "VSCO Filter" or "VSCO Presets" into Google. There you can find some presets.

Face Tune
A lot of things are not as they really seem and also on Instagram, a lot of things are helped to improve one's own beauty. There are even apps like Face Tune that help to improve certain blemishes. But in the meantime, these apps or the functions of these apps will be used for a wide variety of photos. These include:
White correction (turns gray or yellow-white into really bright white)
Soft focus
Skin correction (Softer and cleaner)
Here is a not at all exaggerated example of how effective Facetune really is. With just a few clicks you can tighten the skin and eliminate impurities. You can also lighten the whiteness of your teeth and make certain areas smoother with soft focus.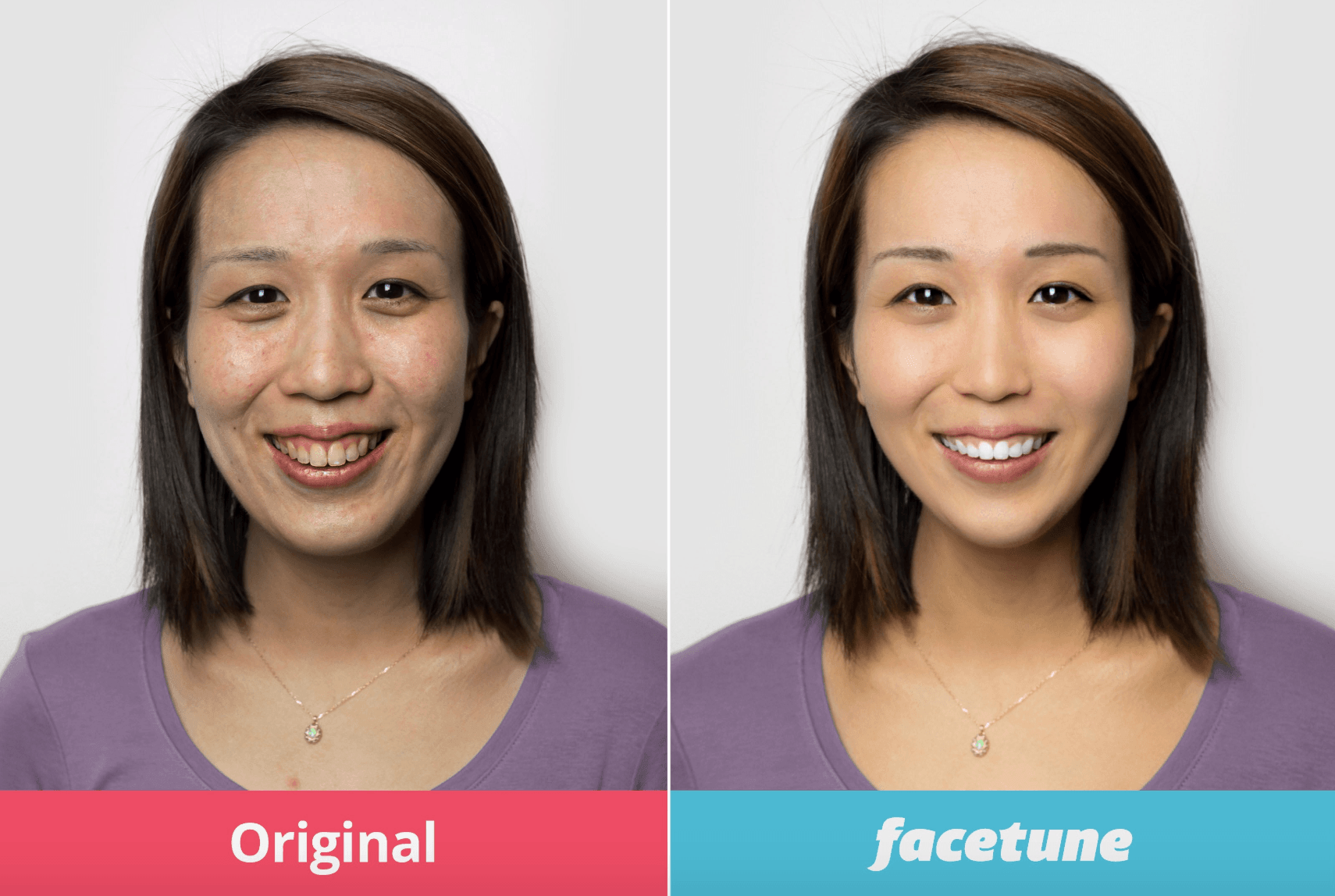 But the app can also be useful for architecture, still life or other photos. Especially if you like high-contrast photos and clean looks where the white should be really nice and white. Thus, Face Tune is not only a handy app for beauty bloggers but also for other photos of all kinds.
Summary
To build a professional Instagram feed you need a strategy. Just posting haphazardly will not work. That's why you should get ideas and tricks from the biggest influencers and copy certain things. You'll quickly find that there's usually more thought and planning behind the feed than you might think.
The most important thing is to brand with the feed and create a consistent look. This not only looks harmonious but also ensures a certain recognition value. In order to implement this, it is worthwhile to create certain presets with VSCO or Lightroom. This makes it very easy to achieve and maintain a desired look.
Moreover, you should schedule the photos and not post them manually yourself. On the one hand, this has the advantage that you forget to post and always use the best times (when others are most active and just online). But of course, also for the reason that it makes it quite easy to plan the feed and the arrangement of the photos stylistically.