Instagram bots have become increasingly popular in recent years and were previously considered the most effective way to grow Instagram accounts quickly. The idea behind it is relatively simple. Through the increased activity (Like, Follow, Unfollow, etc…) which is carried out by the bot, you also get a lot of engagement back in return. In this article, we explain what Instagram bots are all about, which ones you should definitely use, and what you still need to keep in mind when using them. Because only if you choose the right settings and proceed with strategy can you get the best out of it. In addition, we share our experience that we have made for years and give a forecast for the future.
For the nerds among the readers, there is of course also the possibility to program the bot yourself and create an Instagram bot for free. But this requires a lot of know-how and also involves risks. More on this below.
What is an Instagram Bot?
An Instagram bot is nothing more than a robot (abbr. bot) which takes over the account and becomes active itself. The bot takes over various activities and simulates natural user behavior and activity. This eliminates the need to manually interact with other users and lets the bot do the work.
This naturally increases the engagement of other users with your own account and you grow without even being active yourself. The really good Instagram bots (see test winner below) even take over posting and you can pre-schedule your feed very well. This also saves time and at the same time increases the engagement, because you can schedule exactly the times when most users are online.
Finally, an Instagram bot is a very practical support to grow faster on Instagram. Especially in combination with high quality content, you can significantly accelerate account growth and steadily get
get new Instagram followers
.
Top 7 Instagram Bots
Currently, there are hundreds of Instagram bots on the market. On Google alone, you can find dozens of providers within seconds. But most of them do not deliver what they promise. They are limited in functionality, do not work continuously and are usually very noticeable. Therefore, you should be careful which one you choose.
After all these years, here we have created our current TOP 7 best Instagram bots for the 2021. This list is checked regularly and adjusted if necessary.
PGlmcmFtZSB0aXRsZT0iVE9QIDcgSW5zdGFncmFtIEJvdHMiIHdpZHRoPSI4MDAiIGhlaWdodD0iNDUwIiBzcmM9Imh0dHBzOi8vd3d3LnlvdXR1YmUtbm9jb29raWUuY29tL2VtYmVkL2NGQVlyME5fWEwwP2ZlYXR1cmU9b2VtYmVkJnJlbD0wJmVuYWJsZWpzYXBpPTEmb3JpZ2luPWh0dHBzJTI1M0ElMjUyRiUyNTJGemVpdGdlaXN0LmNvJTI1MkYxd3AlMjUyRmFwcCZjb250cm9scz0xIiBmcmFtZWJvcmRlcj0iMCIgYWxsb3c9ImFjY2VsZXJvbWV0ZXI7IGF1dG9wbGF5OyBjbGlwYm9hcmQtd3JpdGU7IGVuY3J5cHRlZC1tZWRpYTsgZ3lyb3Njb3BlOyBwaWN0dXJlLWluLXBpY3R1cmU7IHdlYi1zaGFyZSIgYWxsb3dmdWxsc2NyZWVuPjwvaWZyYW1lPg==
Autogramer – Rank #1 Price / Performance
Autogramer is one of the newest Instagram bots currently on the market. The high functionality combined with ease of use is ideal, especially if you want to use multiple accounts. There are many practical functions which go beyond the classic Like, Follow/Unfollow bot.
Since the beginning of the year, some new features have been added and compared to all the other bots, Autogramer does the most development work. Thus, probably one of the most sustainable solutions.
Thus, you have the most important functions all covered with one tool and nothing stands in the way of Instagram growth. Due to the simple operation, you quickly find your way around and also have fun with it. (compared to Jarvee – this one is much more complicated).
Given the packages, Autogramer offers the best value for money.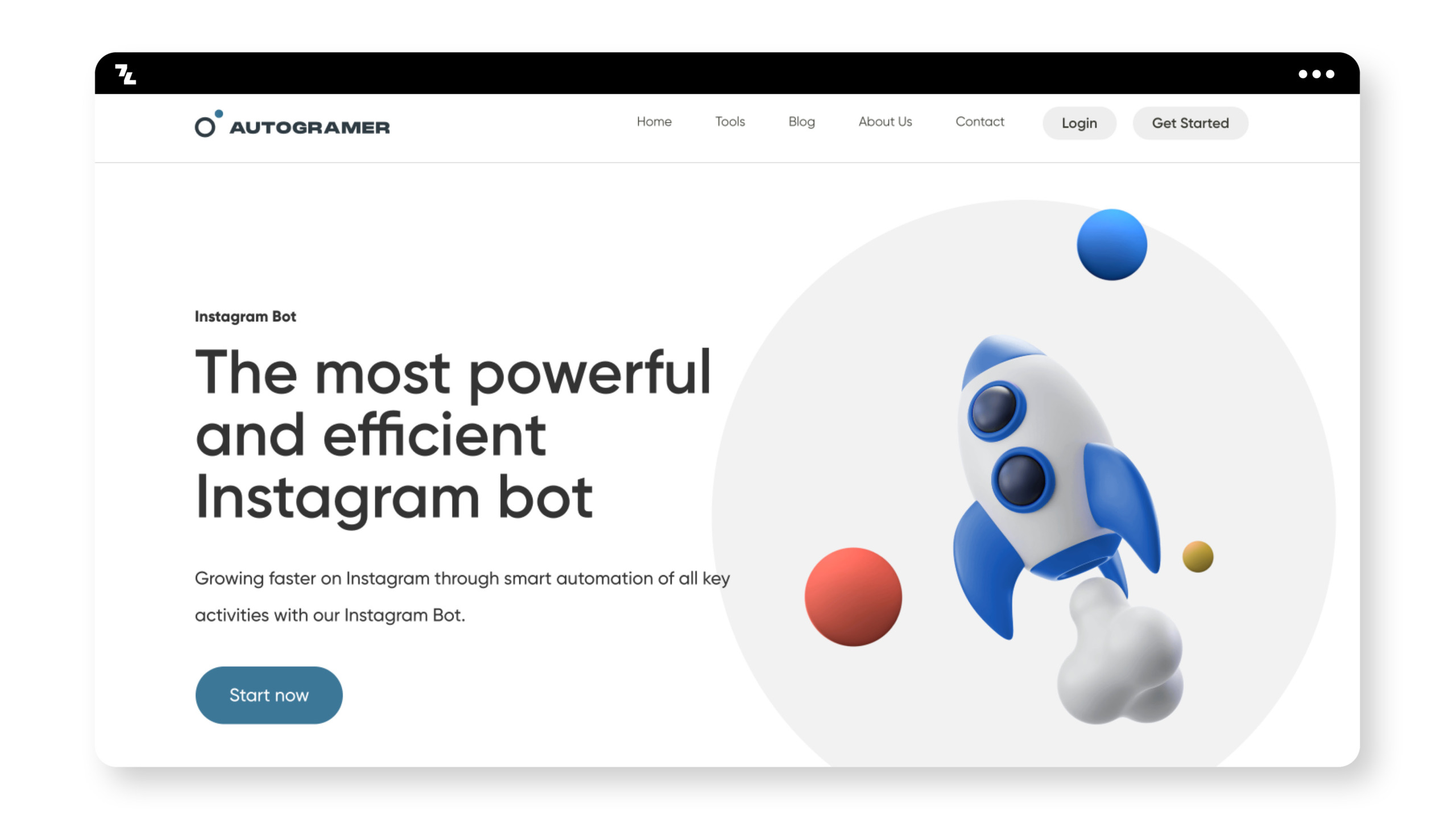 Ghost Follower App
In second place, you can find an application that is very different from the conventional bots, but fulfills by far the most important function.
As the name suggests, the Ghost Follower app removes all ghost followers. This is important in that ghost followers keep the engagement rate low and that is among the most important indicators for the Instagram algorithm.
Numerous filters can be used to precisely remove unwanted
Ghost Follower accounts
.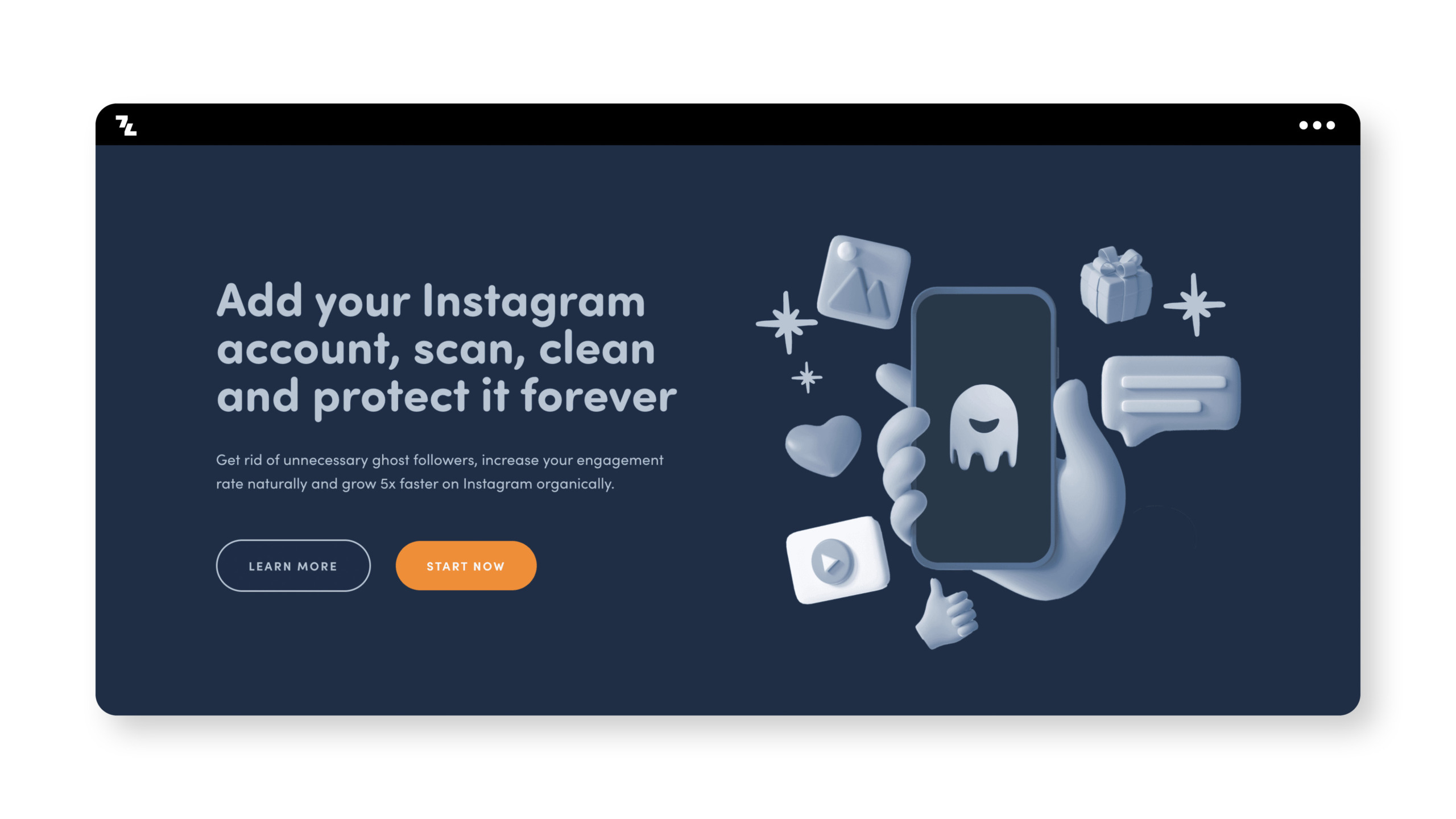 Inflact
Inflact is another solid bot on the market when it comes to functionality. You can automate all important and basic functions, get good customer support and pricing is flexible. In addition, Inflact relies on AI and supports numerous features through artificial intelligence. In addition, there are numerous other practical features.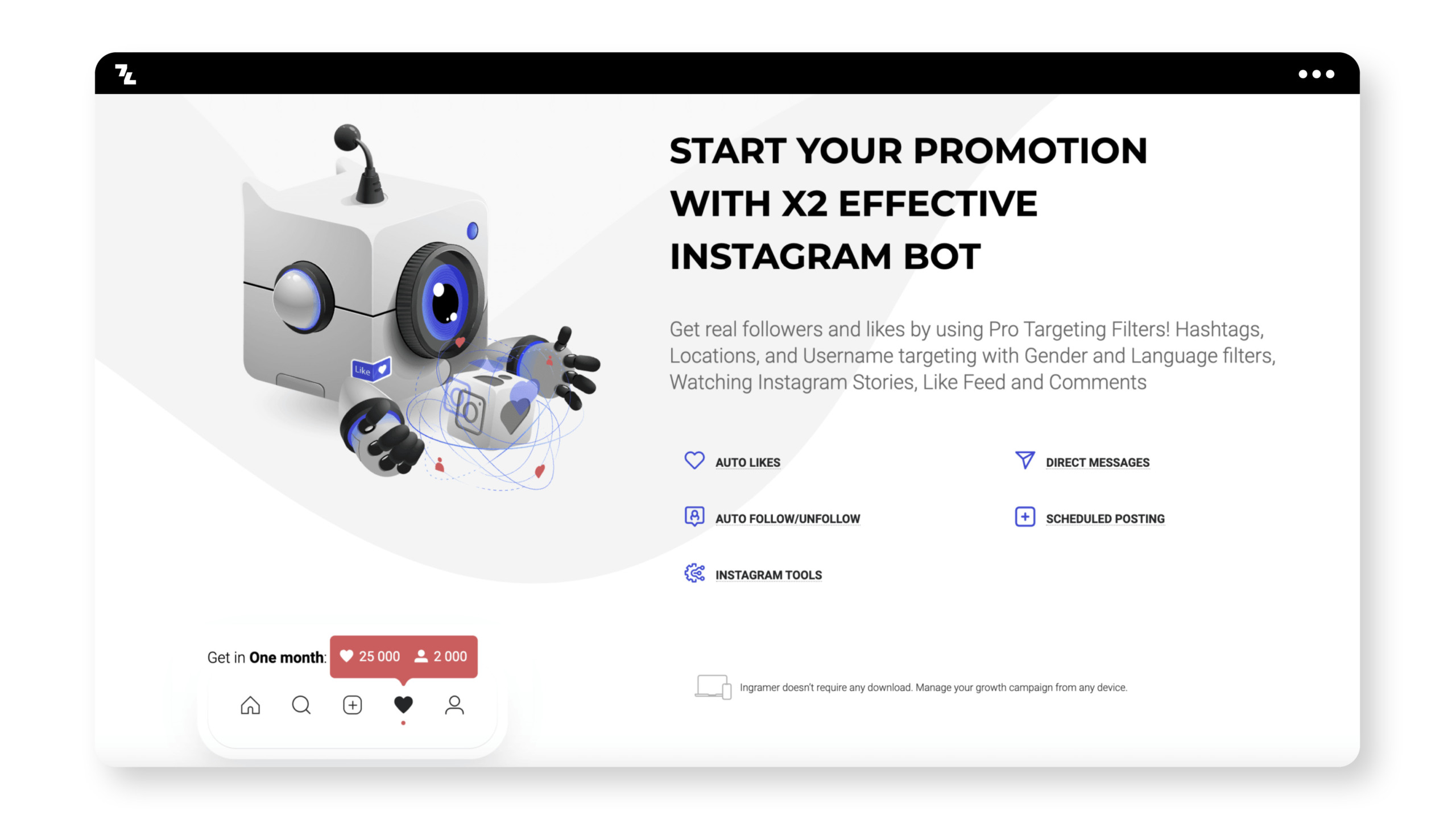 In terms of ease and intuitiveness of use, Inflact is the best tool on the market. Here are the most important functions at a glance:
Auto Like / Follow / Unfollow
Car DM / Responder
Direct chat
Post Scheduling (Photo, Video & Story)
Post Downloader
Hashtag generator
Analytics
Post & Story Download
VPN with proxy (security & stability)
This video explains the full functionality of Inflact. It is by far the most comprehensive Instagram software with Autogramer when it comes to Instagram automation. In the description all test versions for the tools are linked together again as well as in this article.
Jarvee
Jarvee was a very comprehensive tool, but it has since been discontinued. Therefore, we recommend all solution about it.
Combin
Combin is quite an interesting and, above all, inexpensive tool. The automation options are not quite as extensive, but you get a lot of data for analysis. Post Scheduling / Planning is also all included and for only 12€ / month. Thus, another tip for those who want to save money.
Instazood

Instazood
is the cheapest option and with only $9.90 / month an absolute bargain. Compared to Inflact, you still get many features, but the price is significantly lower. It fulfills the most important functions, is easy to use and reduced to the most essential. You can automate Likes, Comments, Follow/Unfollow and DMs in the same way and also set basic things in terms of targeting. In addition, there is the possibility to randomize the activity and simulate human behavior.
Given the really low price, Instazood is worthwhile for both beginners and professional agencies with a limited budget. The financial risk is really limited and compared to Jarvee the dashboard is much simpler and clearer which can be an advantage for newcomers.
Gramista
Far below is Gramista. Basically, there is nothing wrong with the bot. The functionality is given, the operation is also incredibly simple here, the results are constant, but the price is quite steep. You already pay $10 for a runtime of 7 days, extrapolated that's a whopping $40 / month.
Only if you take the package for 90 days you pay $90 and thus come to 1$ / day. But that is still expensive and you are then bound for 3 months or have to pay in advance.
Thus, you should consider well in advance whether it is really worth it. Therefore, this bot is only conditionally recommended for beginners. However, there is a possibility to test for 3 days for $5. So you can get a taste of it for little money.
Unfortunately Down: Instagress
Instagress was the first and so far one of the best Instagram bots on the market. We were able to achieve the greatest successes 2-3 years ago with Instagress and that's why this bot will always be remembered. It is characterized by an incredibly simple operation which is limited to the most important functions. The UI was very user-friendly and you intuitively found your way around very quickly.
The reason we can only conditionally recommend it anymore is that Instagress is no longer accepting new customers and many old accounts have been cashed out and subsequently closed. Therefore, Instagress is no longer accessible to all users and can only be used by a few.
Our account was also deactivated and eventually paid off. It's a pity, because it was a very cheap and effective tool and we had really incredible success with it.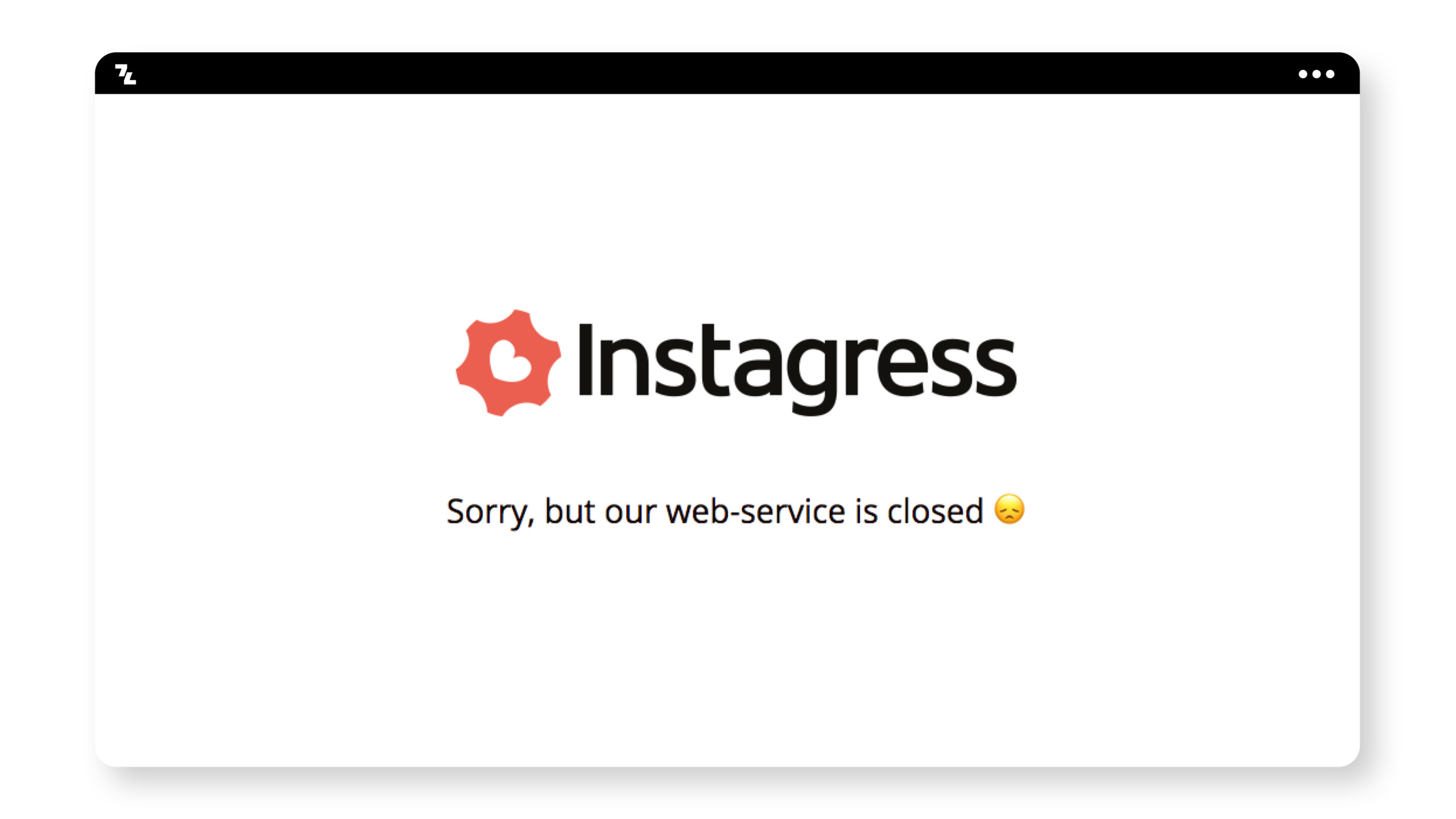 What must the software be able to do?
If you are not sure despite our ranking which is based on several years of experience and testing, you should inform yourself and decide. For this, you have to consider certain points that an Instagram bot absolutely has to fulfill in 2021. These are the absolute basic requirements. In addition, it is worthwhile to choose a company that has been on the market for a long time and also continuously invests work in development. After all, Instagram is also constantly changing and thus the bot or the automation tool for it should also change.
Like
The most important and simple feature is automating Likes. Thus, the bot distributes appropriate likes to the selected target group. The most important thing is that you can set the number of likes / actions. It is recommended to use at least Set 3 likes / account, as this gives the impression that you really looked at the other person's account and scrolled through the feed.
Follow / Unfollow
This activity should really only be used very sparingly, as many users have absolutely overdone this function and Instagram doesn't like to see that at all anymore. However, a good Instagram bot should also offer the possibilities to automate the following and unfollowing of the corresponding target group.
Direct Message
It is going down in the DMs. In this sense, Direct Messages have become incredibly important in recent years. Especially for the automated
writing to influencers
for a collaboration or customers, this can be quite practical. Accordingly, you should also use them (automated). However, care must be taken to ensure that messages are not too generic and standardized. This is because it is often perceived as spam.
Story View
Another essential but newer feature is Story Views. This makes sense insofar as these are noticed especially on smaller accounts and simulate real engagement. Story Views should ideally be combined with Likes to simulate real behavior.
Post Schedule
A good Instagram bot should not only automate engagement, but also other processes such as
scheduling and posting posts or feed
. This is useful in that you bring more structure and planning to your Instagram. It not only saves time but also makes the feed more beautiful.
Analytics
Let data tell the story. Every online marketer should live by this principle to some degree, because data doesn't lie and is crucial. Thus, you should also keep an eye on the growth of your Instagram account and possibly analyze it. This allows better strategies to be devised and growth to be increased as well.
Setting / Targeting / Randomization
Ultimately, the bot can have all functions, but these must also be precisely adjustable. Because the settings are ultimately decisive for the success of the automation. In order not to make this article too long, here is a short overview of the most important settings regarding speed, targeting and randomization:
Speed (Likes, Follows, DMs etc / day)
Geo targeting (target groups according to location)
Follower targeting (targeting followers of another account – very effective!
Following targeting (targeting followings of another account)
Day / Night Shift (Simulates natural activity)
Randomization of the interval (activity is randomly distributed over the day – simulates real behavior again)
Experience
We're being honest – Instagram bots aren't what they used to be. Instagram bots used to really be the ultimate growth hack through which you could quickly build reach and traffic. We too were able to build a few accounts to over 20K followers with 5% engagement rates through Instagram bots. It used to be a regular piece of cake.
But times have changed, or rather Instagram has simply become smarter. This is because the social network now has over 1 billion users and takes appropriate action against dubious behavior. Bots or automation tools violate Instagram's user guidelines and are not allowed. Instagram developers have gotten better and better at training Instagram's AI to recognize bots and warn accounts accordingly.
As a result, you can't use bots as aggressively as you used to. The activity may not be so strong and you should make in a few settings and trick Instagram. Among these is randomization of activity, but more on that in a moment.
Best Practices
You can still have success with Instagram bots this year, but you should keep a few things in mind. To dodge Instagram AI and always stay under the radar there are a few tricks. Otherwise, there is a potential shadowban.
Choose the right settings – If you decide to use a bot, you should definitely choose the right settings. Specifically, you should not turn up the activity too high. Maximum medium or even better low. In addition, be sure to randomize the activity. This means that the bot becomes more active in phases during the day and then becomes inactive again. This is supposed to mimic the natural behavior of a real user. Thus, it seems much more organic, spontaneous and ultimately human. Thus, the AI hardly recognizes the difference between bot and human.
In addition, you should not leave automated comments like "Great post" or "Super picture". This is particularly striking and no one falls for it anymore. Rather, you will reap a lot of criticism for such behavior, as spam is not desirable. You should rather ask questions and also give the bot many to choose from to not always post the same ones. Questions make sense in that they have an even more organic effect and encourage engagement.
Create a secondary account – This may sound a bit paradoxical, but in reality it is incredibly effective. The procedure is as follows. You create a second Instagram account, name it very similarly to the primary account, upload nine pictures (so the grid is full) and link the primary account in the BIO as well as on ALL 9 photos. Then you activate the bot.
Now, more and more users are becoming aware of the account due to the bot activity. But as soon as they go to the account, they immediately see (in the bio) that it is only a secondary account. Even on the photos, the description immediately links to the primary account. Thus, most users get to the primary account out of curiosity anyway. Ingenious or?
The best part is that you are exposed to 0 risk at the same time. After all, the primary account remains without bot activity. Only the secondary account is at risk of a ban from Instagram. However, this is not a problem because you can theoretically create another secondary account within 5 minutes. Theoretically, you could even do this with multiple accounts to grow even faster. Growth Hacking Approved.
What does the future hold?
Just like Google SEO, it's getting harder and harder for growth hackers and black hat marketers to grow faster on Instagram with tricks like bots and automation software. We expect Instagram to continue to crack down on bots and make it more and more difficult for us marketers.
For this reason, we recommend using such tactics as long as they still work. What the future will really bring, however, remains to be seen, because perhaps there will be better software by then.
Programming yourself [Free]
Of course, it is also possible to program an Instagram bot yourself. However, for this you need knowledge in the field of programming and should ideally know the language Python. There are numerous tutorials on Github on how to program an Instagram bot yourself. It's best to watch a few tutorials before you get started yourself.
However, you should be aware that it violates Instagram's user terms and conditions, so you are exposed to a certain risk. Thus, there is again the risk for a ban. In the end, however, everyone must assess the risk for themselves and it also exists with purchased manufacturers who offer bots for a monthly payment.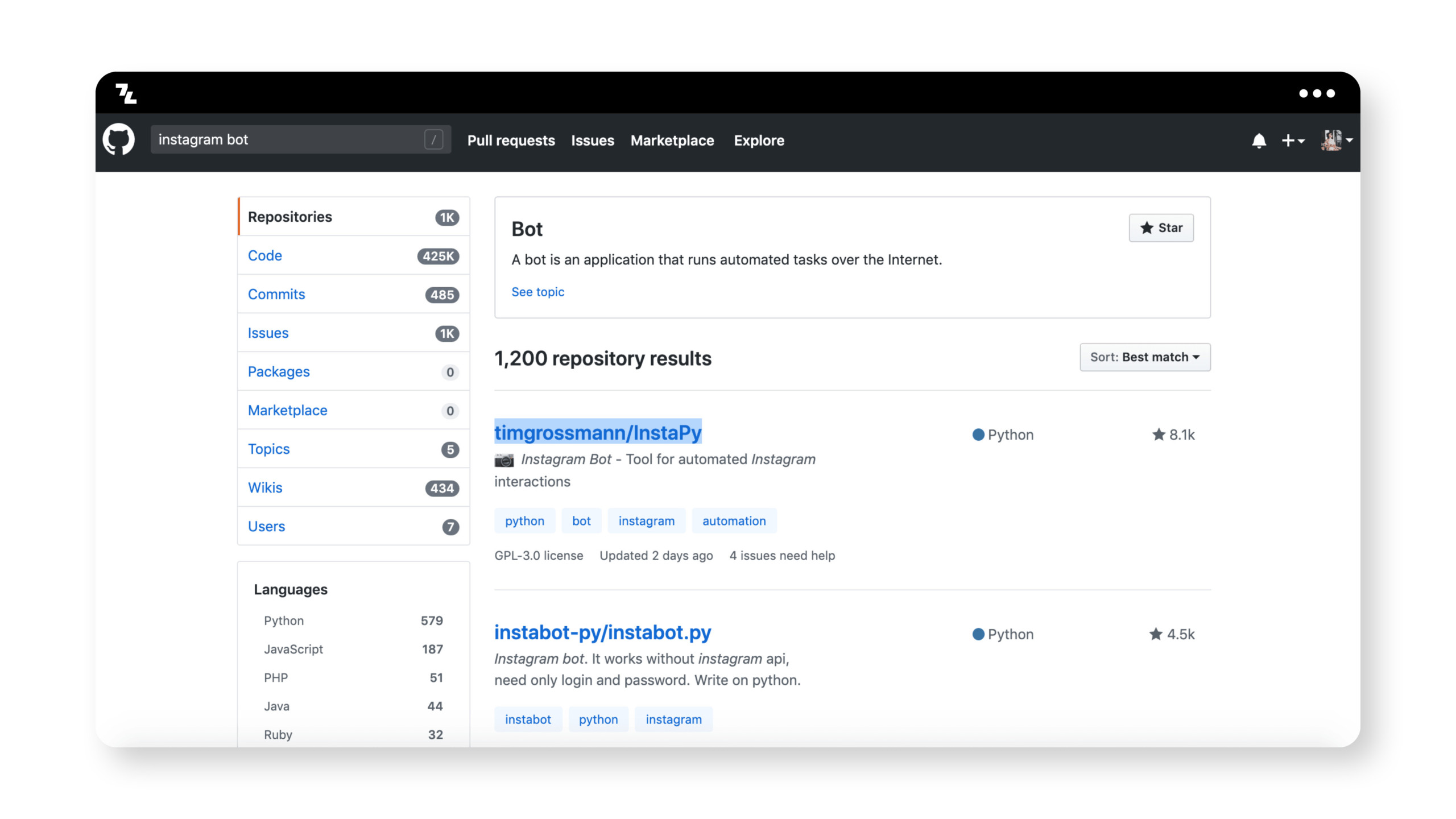 Ghost Follower App
In second place, you can find an application that is very different from the conventional bots, but fulfills by far the most important function.
As the name suggests, the Ghost Follower app removes all ghost followers. This is important in that ghost followers keep the engagement rate low and that is among the most important indicators for the Instagram algorithm.
Numerous filters can be used to precisely remove unwanted
Ghost Follower accounts
.
Summary
Instagram bots can be incredibly effective when it comes to increasing your Instagram reach, but they also carry a certain risk. Basically, these violate the user conditions of Instagram. In the worst case, this can end in a banned account.
To avoid this and stay under the radar of Instagram you should proceed properly. On the one hand, you can and should randomize the activity of the bot. This means that the bot does not always become active at the same intervals but imitates natural behavior and the activity is subject to daily fluctuations just like a real user. In addition, the speed should be set moderately.
Ideally, you should use a second account. This account has linked the primary account in the bio and uploaded only 9 images each linking back to the primary account. Thus, the activity can also be set high, you get a lot of traffic and the primary account is spared.
The current best Instagram bot is definitely
Autogramer
. Jarvee is one of the best social media marketing tools around. For a few euros a month you get a complete automation tool for Instagram, Facebook, YouTube and Co. For those who are looking for the best price / performance ratio will be happiest with Instazood.